2011-08-02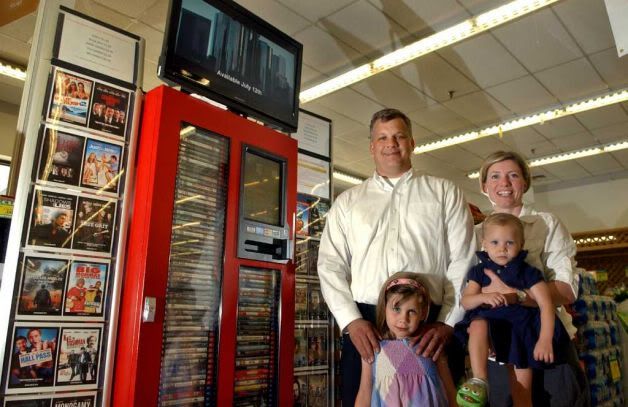 Dan Kearney poses with his wife Mary and children Nora, 4, and Grace, 2, in front of their DVD kiosk stationed atthe Adams IGA Food Store in Milford, Conn. on Tuesday July 26, 2011. They operate a company called EnjoyNewReleases.com which has two kiosks in the area, with plans to expand.
When Dan and Mary Kearney decided to call their new video kiosks here and in Shelton ''Enjoy New Releases,'' they meant it.
The automated red machines that the couple purchased from DVDNow in British Columbia can rent DVDs and Blu-Ray discs on the first day they are released; a huge competitive advantage, Dan Kearney said.
''RedBox and Netflix have to wait 28 days before they can make a movie available to customers, and Blockbuster charges $2.99 per night,'' he said. ''As soon as it's on the street, I can rent it. I get the new movies in advance and I load them into the machines on Saturdays and they are available on that Tuesday morning.''
Similarly, iTunes isn't viewed as competition by the Kearneys, because the streaming service charges a lot more to rent or buy a new movie. New Releases LLC, the Kearneys' company, charges $1.49 per night and allows registered users to reserve a movie online that they can pick up at the kiosk. ''We have two locations right now, in the Adams IGA Supermarket in Milford, and at the Bridgeport Avenue Shell in Shelton,'' he said. ''But we are planning to add more.''
The two have day jobs. Dan is an airplane mechanic at the Westchester, N.Y. airport and Mary is a registered nurse at Danbury Hospital. The new business is a way to pick up extra income.
''It pretty much runs itself. I get messages on my phone if there are problems with the machine, though there haven't been any, and I go to the stores on Saturdays to load in the new movies,'' Dan said. ''My cell phone number is on our website, enjoynewreleases.com and people are surprised that there is a person they can talk to. I guess that doesn't happen with RedBox,'' he said with a smile.
Besides movies, the couple rents games for the XBox, PS3 and Wii systems. DVD Now, the company that sells the kiosks, does not provide exclusive territories, a company official said. But rental kiosks have all but replaced video stores in Europe, and free-standing kiosks accounted for 31 percent of all DVD rentals in the U.S. last year, according to a DVD Now press release, with new releases accounting for 80 percent of that revenue.
To keep their inventory current the Kearneys remove videos from their kiosks after a few months and sell them at a steeply discounted price in a separate location in Shelton. Kiosk customers can also choose to purchase a DVD, with the price prorated by the number of times the disk has been rented.
The Kearneys are offering readers a free 24-hour rental. Go to the kiosk in either Shelton or Milford and press ''coupon'' on the touch screen. Enter the code: newreleases.